Wholesale Nail Making Gripper For High Speed Nail Machine
Product introduction:
The high-speed nail making machine adopts secondary stamping technology to effectively solve the problem of stamping deflection of the top cover due to uneven cutting of the nail strips and other reasons. Ensure that the diameter and thickness of the top cover are uniform and consistent. And the use of a new pendulum structure, higher accuracy, effectively reduce tool and mechanical wear. Therefore, the gripper adopts a combination of a set without chamfer and a set with chamfer.
High-speed nail making machine makes every nail made of high-quality products, and the mechanical structure completely eliminates the phenomenon of long and short nails, partial caps, different sizes of nail caps, flat heads, and curved nails.

Overview:
Products: nail gripper /nail mould Products NO.: NM18
Place of Origin: Hebei China Product Material: Tungsten Carbide
Shaping Mode: Forging mould Sample: Provided
Trial order: Acceptable Size: Customized
Service: OEM
Product Details:
Drawing: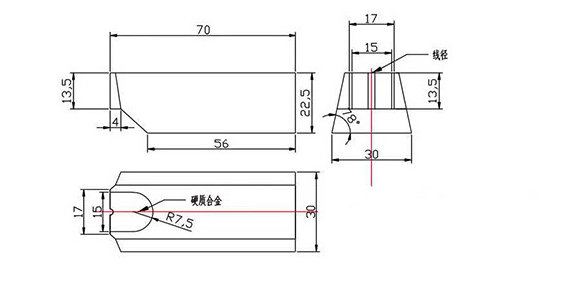 Delivery and Shipping:
Delivery: Shipped 3 weeks after receiving the payment
Shipping: DHL, TNT, UPS, FEDEX and so on.
MOQ: 1 Set can be supplied as samples
Payment Term: TT