High Speed Nail Knives Of Nail Making Tools Made In China

Product introduction:
This high-speed nail cutter used in the high-speed nail making machine, the tungsten carbide of the high-speed nail cutter is more able to withstand the high temperature of high-speed cutting, the tool is not tired, and the use is more durable. They have Star angle, with 30 degrees, 35 degrees, 40 degrees and so on. We can supply special nail making machine wear and spare parts, just as customer's drawings and requirements.
Overview:
Products: high speed nail cutter /nail knife Products NO.: NM05
Place of Origin: Hebei China Product material: Tungsten Carbide

Trial order: Acceptable Size: Customized

Service: OEM
Keyword: High Speed Nail cutter / Nail making tools / SSS Nail making machine
Grade

Equal to

ISO

Density
(g/cm3)

TRS

(N/mm2)

Harness
(HRA)

USE

YG15

K40

14.0

2300

86.5

For fabricating drawing dies of steel tubes and rods under high compressibility ratio; punching stamping forging tools under large stress.

YG15C

K40

14.0

2500

85

YG20

K40

13.5

2400

84

For various dies made by cold forging, cold stamping and hot forging.

YG20C

K40

13.4

2600

81-82

Dies for wear resistant or impact resistant application
Product Parameter:
Product Details:
Drawing: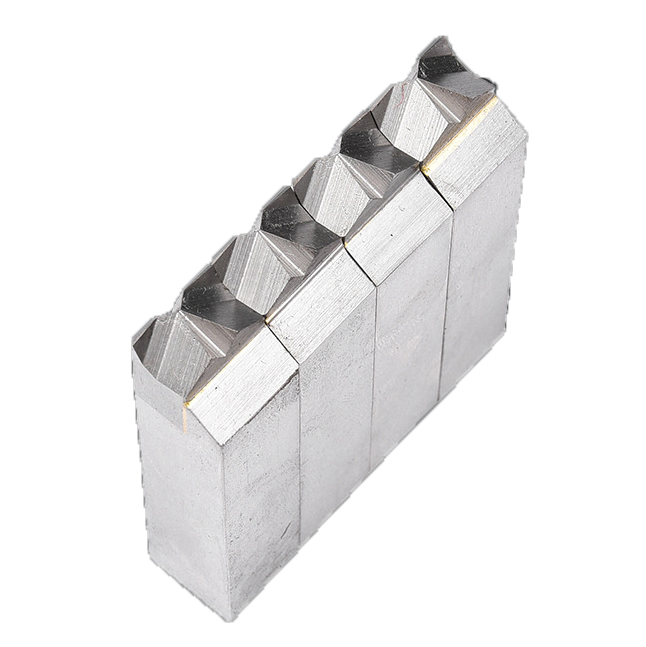 76mm*16mm*16mm
Product Qualification:
Customized tungsten carbide nail Making tools:
1. Original TC material, precision work, high anti-seismic
2. Extending the tool working time.

3. Options for inserts is in variety types, and really value for money.
4. Deeper precision machining.