Nail Making Knives For Clinch Point Cutting
Product introduction:
This nail cutter as one part of Nail making tools, It is a special shape, different Angle. The clinch point comes in many forms and is composed of four sections like a normal nail's point. Only because of the difference in Angle, one of the sections deviates, maintaining the original steel wire shape, thus forming the nail head appearance. These are for most of the nail making machine accessories. They have angle with 30 degrees, 35 degrees, 40 degrees and follow the customer's order. We can supply special nail making machine wear and spare parts, just as customer's drawings and requirements.
Overview:
Products: nail cutter /nail knife Products NO.: NM04
Place of Origin: Hebei China Product material: Tungsten Carbide Shaping Mode: Forging mould Sample: Provided
Trial order: Acceptable Size: Customized
Service: OEM keyword: Nail cutter/Nail making tools/Nail making machine
Product Parameter:
Grade

Equal to

ISO

Density
(g/cm3)

TRS

(N/mm2)

Harness
(HRA)

USE

YG15

K40

14.0

2300

86.5

For fabricating drawing dies of steel tubes and rods under high compressibility ratio; punching stamping forging tools under large stress.

YG15C

K40

14.0

2500

85

YG20

K40

13.5

2400

84

For various dies made by cold forging, cold stamping and hot forging.

YG20C

K40

13.4

2600

81-82

Dies for wear resistant or impact resistant application
Product Details:
Drawing: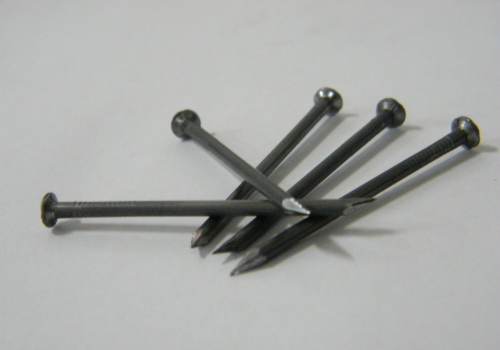 Application:
The clinch point nail used to secure the wooden tray to the top plate, the pointed point is easily bent at the back, and is renailed into the board to reinforce the lock.